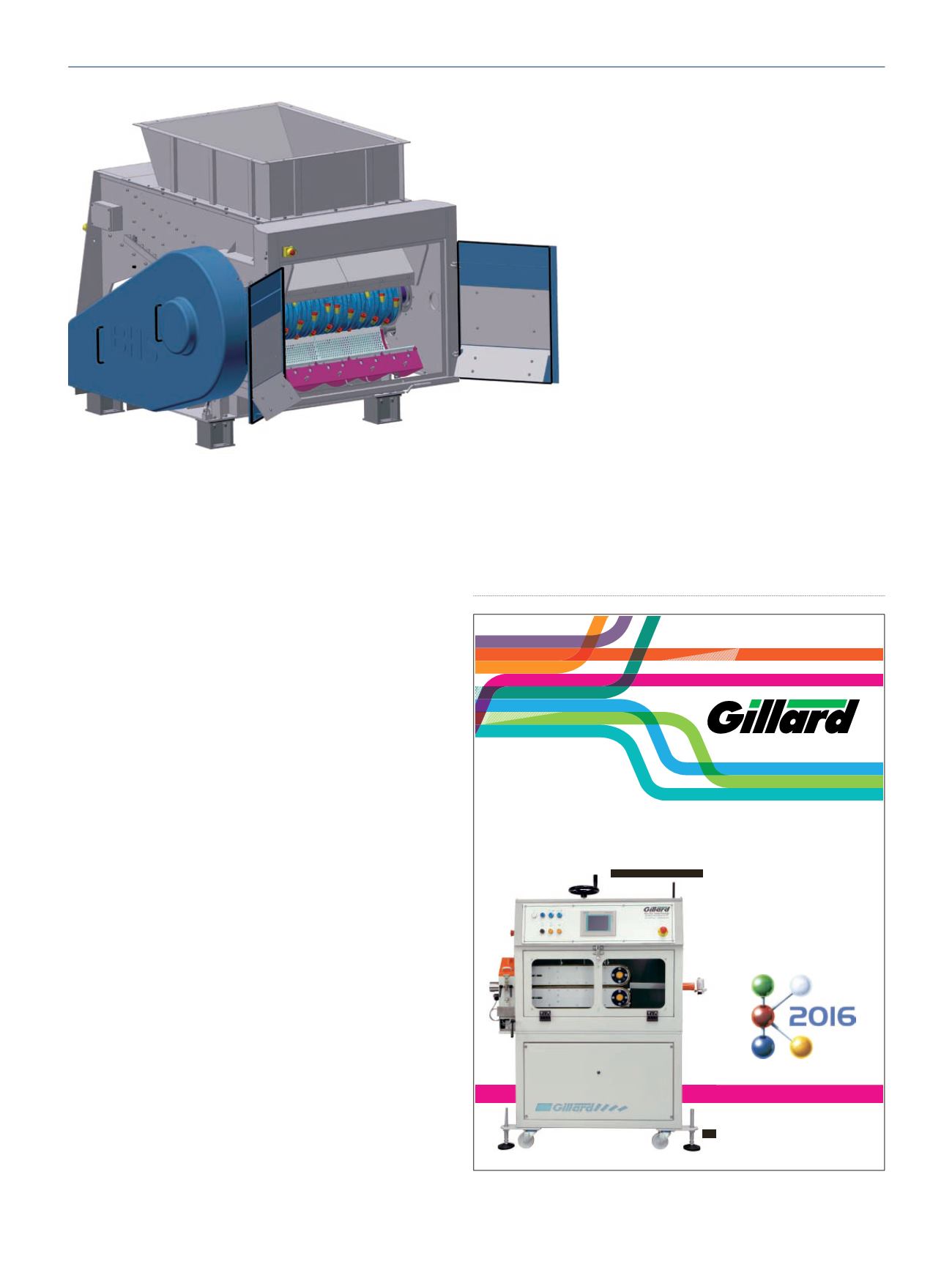 Extrusion International 5/2016
33
their main shredding requirements were. Their answers and
the long-standing experience of our engineers were incor-
porated into the design.
The result: A completely newly developed machine that eco-
nomically shreds everything you can possibly cut."
BHS added many technology advances insuring excellent
machine uptime. This begins with the sturdy design and
long service life of the individual components and extends
from the simple removal of contaminants through to short
maintenance times and the rapid availability of spare parts.
The technology:
The loose feed material is loaded into the feed hopper,
which BHS-Sonthofen individually adapts to the material
and type of feeding.
A hydraulically driven slide pushes the material along the
base plate and toward the cutting system where granula-
tion takes place. The rotor is equipped with replaceable bla-
des, and the stator has an adjustable counter-blade with a
material specific profile. BHS configures the style, quality
and number of blades to the specific application at hand.
Once the cut material reaches a defined partical size, it falls
through a screen basket downwards and out of the ma-
chine.
The size of the discharge material is defined by the
hole size of the screen, it can be between 20 and 100 mm.
The screens are individually replaceable and can be rotated
lowered downwards. In this way, BHS avoids the need for
overhead work when inspecting the machine or replacing
the screen.
As contaminants can never be fully prevented from falling
into the feed material, the base plate is mobile and can be
lowered from the cutting gap, if required. This allows for
fast removal of contaminants. The screen basket can also
be folded away for inspections.
The throughput depends to a large extent on the density
Innovators in Extrusion
Cutting Technology
www.gillardcutting.com
Visit us at
Stand 16C77
MASTIC
INDUSTRIAL
CONSUMER
MEDICAL
AUTOMOTIVE
FOOD
PLASTIC
RUBBER
and toughness of the material as well
as the method of feeding. Interested
parties can request that the company
perform tests in their technology center
at the Sonthofen plant, to determine
the ideal machine configuration.
This gives customers the certainty that
their material will be processed effi-
ciently.
BHS-Sonthofen supplies the machine in
two versions: The Universal Shredder of
type NGU 0513 with a rotor length of
1300 mm for a throughput of up to 5
t/h as well as type NGU 0517 with a
1700 mm rotor for up to 6.5 t/h – each based on a hole dia-
meter of 30 mm. The motor drives are available up to 132 kW.
The drives are frequency controlled, and the speed of the rotor
is adjustable between 80 and 240 rpm. As a result, the ma-
The new Universal Shredder of type NGU 0513:
The screen basket (purple) can be lowered downwards