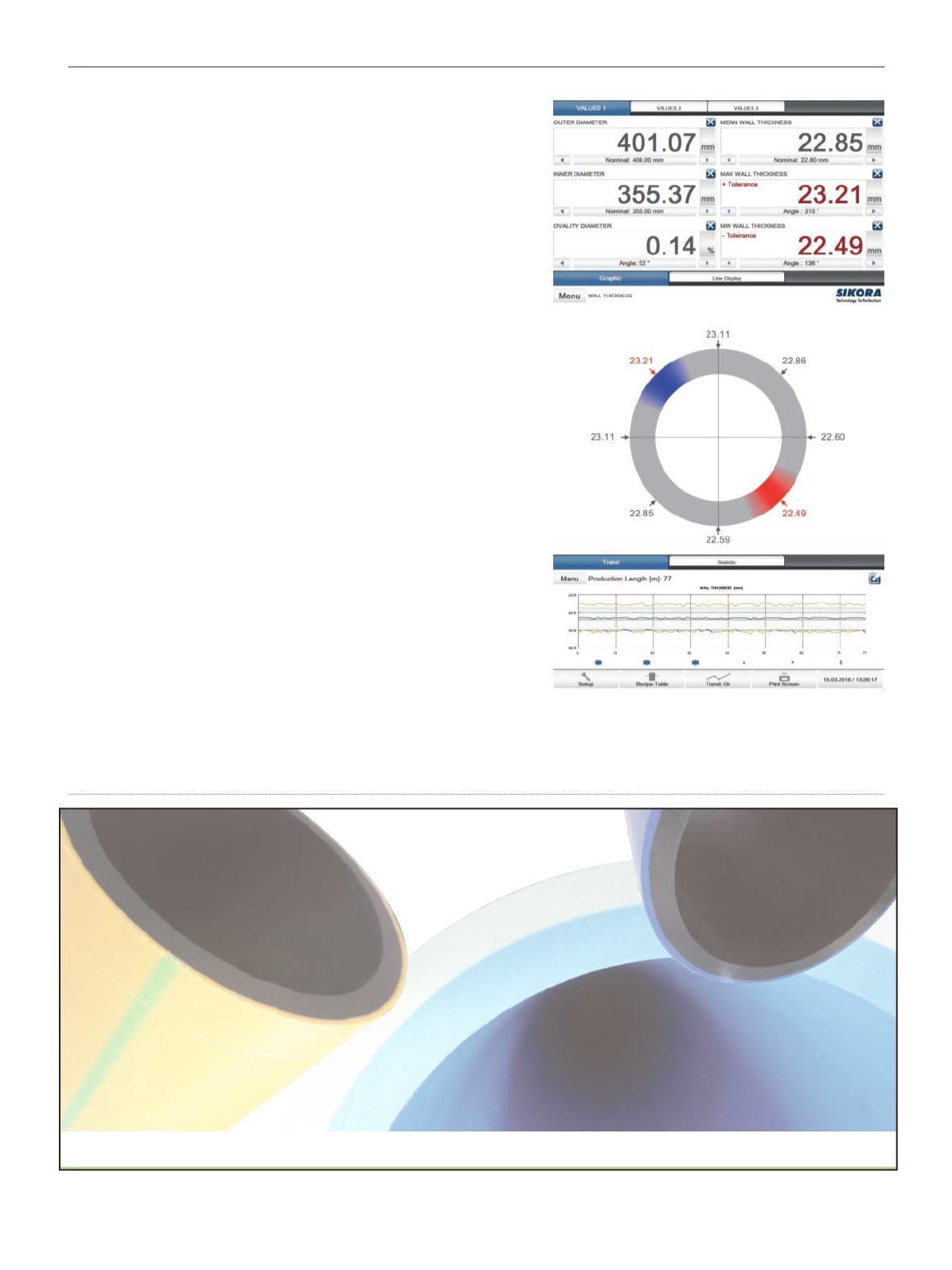 Extrusion International 5/2016
31
CONEXTRU GmbH
|
Klosterstraße 19, A-3011 Tullnerbach
|
info@conextru.eu
|
www.conextru.eu
You need a new tool
for your new
pipe product?
Ɣ TXLFN DQG DW ORZ FRVW ±
VSHFLDOO\ PDGH IRU
\RXU UHTXHVW
Ɣ LQ PRQR RU PXOWL OD\HU
or for coating in your
FXUUHQW SLSH SURGXFWLRQ
CONEXTRU
ENGINEERING FOR EXTRUSION
<RX ZDQW WR PRGLI\ \RXU H[LVWLQJ WRROV WR PXOWLOD\HU DQG
IRU LQWHUQDO SLSH FRROLQJ WR PDNH D QHZ SURGXFW"
Then
CONEXTRU GmbH
LV WKH SDUWQHU IRU \RX ±
WKH PRVW H[SHULHQFHG FRPSDQ\ LQ SLSH WRRO GHVLJQ
The development of new tools for pipes is our
profession and passion – for more than 25 years.
ring values a comprehensive trending and statistical infor-
mation. If we assume that a line, where tubes are produced
with an outer diameter of 400 mm and a wall thickness of
22.7 mm, runs at a line speed of 0.66 m/min, the machine
operator receives accurate measuring results already after ca.
15 min, if there is at first a cooling trough to pass of ca. 10
m length for stabilization of the extruded tube.
Installation in the extrusion line
As temperatures have no influence on the measuring result
when using millimeter wave technology, the system can be
installed for hot measurement as well as at the cold end of
the line for final quality control. Immediately after the first
cooling, the system provides precise information. In addition,
the technology covers the entire range of plastics such as PE,
HDPE, PP, PA6 and PVC.
Applications
The millimeter wave technology is suitable for the measure-
ment of any kinds of plastic tubes with a diameter from
120mm to 2,500mm and larger that are for example used
for conducting water, gas, chemicals and oil. Particularly in-
teresting is the use of the system for the extrusion of PVC,
which is one of the most widely used materials for tubes in
the construction and transport area. Also for PVC tubes with
thick walls the system provides precise measuring values.
Another area of application is the measurement of multi-layer
tubes and curved surfaces. During production, there is the
risk that the melt that leaves the tube tool flows down as a
result of gravity and thus negatively influences the tube wall
thickness distribution. This "sagging" is identified by the
measuring method. Via a display and control device the ma-
chine operator immediately receives information on the pro-
duction process to take actions if necessary.
The measuring values of the CENTERWAVE 6000
are numerically and graphically displayed at the
processor system ECOCONTROL
➠
www.sikora.net