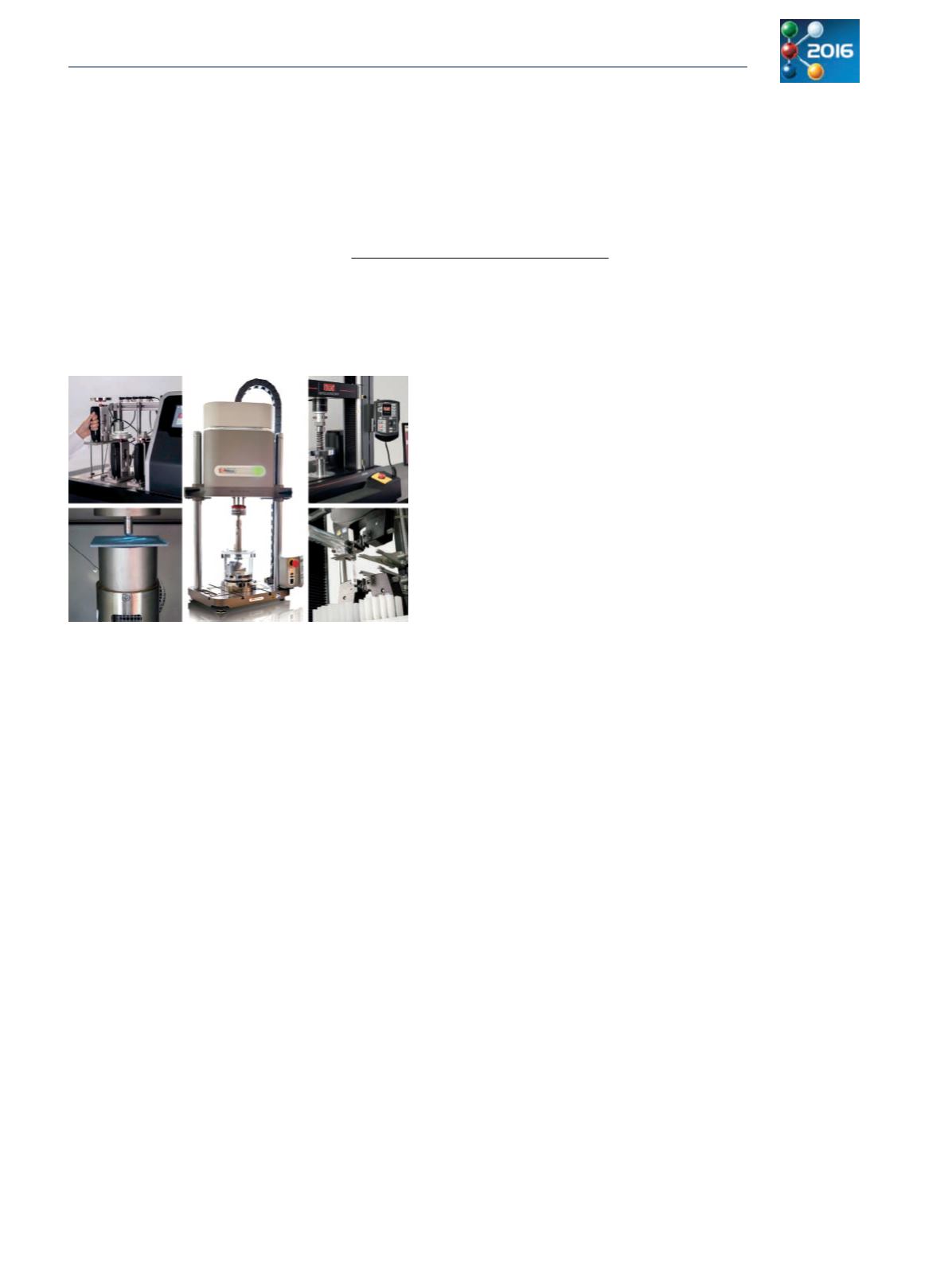 Hall 10 Booth D49
➠
www.ascona.de
A
t K2016, Instron, a global manufacturer of material and
structural testing systems, will present their comprehen-
sive portfolio of systems for testing polymers from static to dy-
namic, from R&D to 24/7. Visitors will find a full range of
devices for applications from basic research to incoming in-
spection and routine testing in manufacturing. For static ten-
sile, flexure, compression, bend, peel, shear, tear and cyclic
tests, Instron will show a versatile 5969 electromechanical dual
column table-top system for mid-range testing, together with
pneumatic grips, designed for a nominal load of 10 kN, in
combination with an automatically contacting Instron
®
AutoX
extensometer. For automated testing runs, meeting the requi-
rements of all common testing standards, Instron will present
their latest development, the TestMaster AT3 for tensile and
flexure testing. Once the tray has been loaded and the start
button pushed, its automated specimen loading feature im-
proves repeatability and reproducibility of testing and results,
minimising human influence, increasing safety by keeping the
operator away from the testing area, and improving ergono-
mics by virtually eliminating repetitive motions associated with
high volume manual testing. All test runs will be controlled,
documented and stored in a data base using Instron's univer-
sal Bluehill
®
3 testing software with fully-integrated modular
software packages that provide easy, tailored application so-
lutions for today's laboratory managers and test technicians.
For impact testing of polymers, Instron will exhibit two sy-
stems: a CEAST 9350 floor standing drop tower designed to
Instron:
testing plastics from static to dynamic
deliver 0.59 to 757 J or up to 1,800 J together with an envi-
ronmental chamber, and a motorised CEAST 9050 impact pen-
dulum. Both systems will be operated using Instron's CEAST
VisualIMPACT software, designed to control these devices, re-
cord force and absorbed energy data, visualise and help ana-
lyse the results and calculate resilience. VisualIMPACT is
tailored to using the CEAST high-speed data acquisition sy-
stem DAS64K. Providing a data acquisition rate of 4 MHz, this
system is particularly advantageous when testing brittle ma-
terials or performing tests at high speeds or low temperatures,
as will be showcased on the stand.
For HDT and Vicat tests, Instron will present its recently intro-
duced Instron
®
HV Series designed to significantly reduce wor-
kload and increase efficiency in the testing lab. Available for
visitors will be a HV6X with six testing stations and automatic
weights application, using advanced electronics that automa-
tically zero the position of the LVDT measuring sensors before
starting a test, reducing test time and human errors. The HV
tester will be operated by the company's Bluehill HV test soft-
ware to run tests, edit methods, analyse results or configure
the system with a few mouse clicks, even further minimising
effort, and raising both laboratory efficiency and throughput
to a high level. For dynamic testing tasks, Instron will showcase
at K2016 the ElectroPuls E1000 Electrodynamic Testing System
which uses patented, oil-free linear motor technology, toget-
her with the recently introduced AVE2 Advanced Video Ex-
tensometer. Offering slow-speed static and high-frequency
fatigue testing, the versatile ElectroPuls systems are ideal for
any lab or office space, designed for up to 10 kN axial load or
combined axial-torsion loadings, delivering 10 kN and 100
Nm. The AVE2 is a non-contacting extensometer for dynamic
strain control at variable gauge lengths and differing travels,
offering speed and flexibility for studying the behaviour of ma-
terials without damaging the specimen's surface. A fully-inte-
grated device, it easily adapts to the normal fluctuations in
environmental conditions in the lab. Designed to dramatically
reduce errors from thermal and lighting variations that are
common in most labs, the AVE2 utilises a real-time 490 Hz
data rate while achieving a 1 micron accuracy.
Hall 10, Booth J18
➠
www.instron.com
Extrusion International 5/2016
73
– the capstock and coextrusion measurements – are being pre-
sented. The capstock measurement serves to measure plastic
profiles with extruded caps while the coextrusion measure-
ment analyses profiles consisting of a number of different ma-
terials, e.g. a combination of rubber and plastic.
PROMEX measuring systems of ASCONA guarantee objective
quality statements and consistent quality control. As a result,
scrap is reduced to a minimum, raw material can be saved and
faulty deliveries to customers can be avoided. This guarantees
high productivity in the plastic extrusion.